You would like to bring your whole family? Not a problem, as Haßloch has a lot to offer for people of all ages.
Holiday Park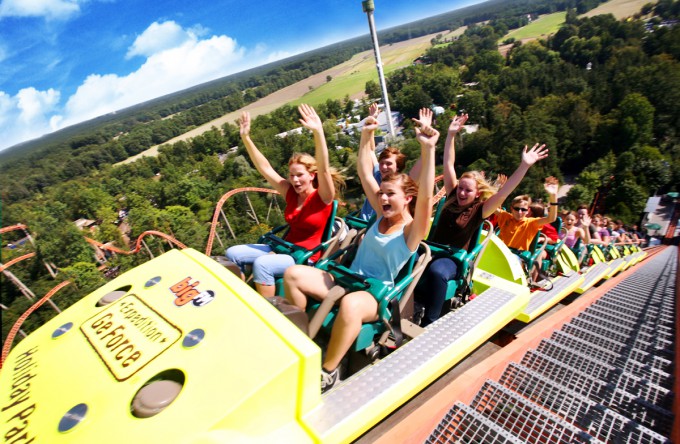 Holiday Park opened 45 years ago in Haßloch. Since then it has become one of the most famous amusement parks in Europe and the rest of the world. There is fun for everyone! Starting with the youngest family members, who are offered attractions appropriate for children in "Maja-Land", over to the water ski show which thrills thousands of patrons each year, to Expedition GeForce which has been repeatedly awarded the title of "Europe's best rollercoaster" by amusement park magazines.
Nobody needs to go hungry at Holiday Park. The park-owned restaurants offer something for everyone and after a hearty meal the exquisitely laid out parkways invite you for a stroll.
Badepark

Overheated while e-boarding? Go directly to Badepark Haßloch!.
This water park has a variety of offers. Small children can climb aboard the pirate ship in one of two low-depth pools where there's a lot to be discovered. Fans of water slides have a choice between a long tube slide, a steep and fast tiled slide and a wavy slide. If you just want to swim some laps you have 2 sports pools to choose from.
You just want to relax? Easy! Available with general admission is a steam grotto with its intoxicating scents. There is a huge lawn to relax and soak up some sun. For the kids there is a mud playground and for the older kids there are 2 Beach-Volleyball plots.
The separate luxurious sauna area offers a relaxing atmosphere.